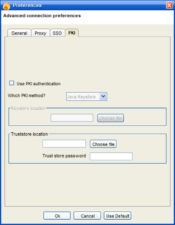 It is a messaging application, developed on Java, which provides the users with new means of communication and keeping in touch with one another.
Spark is highly optimized for business use, but it does not make it less important for general use. It has all the features of the other instant messaging application. Moreover, establishing an account of this application is easy.
It supports the change in colors of the chat, provides avatar and allows you the use of emoticon on this forum. But as the interface is not as developed as the other application, you might require some to get all these features applicable to your account.
In the conversation window provided you cannot simply chat but you are capable of sending files, taking screenshots, managing the logs of discussion along with sending the invitation to groups.
Inbuilt spell checking and the buzzing tool to have user attention are the two essential and unique features that this application provides. You can manage the conversations with your friends in the form of tabs, which makes it easy to communicate with more than one individuals at a particular time.
Settings for notifications, file transfer, media privacy can be easily adjusted depending upon your needs, which makes the usage of this application easy.
Spark provides an alternative to the general messaging applications. It is designed to be used for business and general communication without any problems.