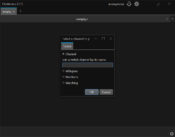 Chatterino is a lightweight application that lets you chat with other users on Twitch. You achieve this directly through your desktop. It is intended to be a larger version of the webchat on Twitch. Instead of using a web browser, it acts faster and more directly.
Process
After logging in to the service, you must browse through the interface. After you do this, you will notice that the speed of the application is much greater than the traditional interface. It uses tabs, so this is not very difficult.
Of course, it does sacrifice some visual appeal to achieve this and stay lightweight.
New Channels
When you want to join a new channel or start a new chat session, click the plus button on the toolbar. Then, two other buttons on the toolbar let you get into your account settings and preferences.
Custom Features
We were surprised to see how many customization options there were. You wouldn't guess it at first, but this app offers a lot. You can create a lot of different accounts.
However, don't use the same IP each time. Choose from different GUIs and change the colors at will.
Advanced Options
One of the real upsides to this software is that it comes with advanced options that others don't. For instance, you can change the scroll speed of the mouse.
That makes it easier to click around and change chats. Then, you can have various commands that enable emojis, ignore messages, and more.
Wrapping Up
In conclusion, this software is very useful for those of you on Twitch often. You can chat with different accounts.
Just be sure to change around the IP so you don't get banned. Once that is taken care of, you can use it accordingly.