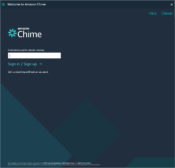 Amazon Chime is an Amazon service tool that will help you collaborate and communicate with your team members, clients, and representatives of other companies in a business-oriented interface created by Amazon.
It's a business-like environment where you can collaborate and communicate with your coworkers and team members. It allows you to host online meetings, chat with other members and others in your group, and organize your business and working efforts as much as possible.
You'll get an interface for communicating with your team members and others on the go – everywhere you might be and at any time.
All Your Meetings and Chats in One Place
Amazon Chime is the go-to app for those needing a centralized place for all their meetings and chats with team members, business partners, and clients. It has a relatively simple interface that's neatly organized into different features you will use with this app.
It has an elegant online meeting tool that will help you stay on top of everything. You can host videos for up to 15 users. And if you use it on mobile devices, you can only create online meetings for up to 8 users at a time.
You can also chat with users effortlessly in the interface. You can also share files, which is done quickly through the interface. You can drag and drop files and send them to your colleagues or other members of the group.
Quality, Simple, and Safe
It follows most other full-stack communication tools, so it doesn't bring anything special. What it does get is an adequate level of polish. It creates a seamless experience, safe and relatively simple to use, even for beginners.
Video chatting, messaging, and audio calls are the supported communication medium. Additionally, file-sharing and screen-sharing options are also available. All the messages and data sent between participants are encrypted.
Conclusion
Amazon Chime is a communication service by Amazon that allows you to chat and meet with other members or clients.