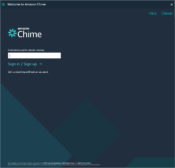 This application is a blessing for the virtual team members. Through it, you can easily communicate with the other members of your team and schedule tasks, etc. Amazon Chime provides you with a secure option for the data transfer and chat. It can make the communication process hassle-free.
Setting up an account is necessary for using this application. Once an account has been set up, you can efficiently manage all the data and get notifications for the activity of the others. You can even arrange a meeting with all the members of your group. Amazon chime will make sure that you get a call on the set time, so there is no chance that you would forget the meeting time.
Video chatting, messaging, audio calls are the entire supported medium for communication. Additionally, file sharing and screen sharing options are also available. You don't have to worry about the leakage of data from your group as all the messages are encrypted.
Amazon Chime is an application that can provide you a secure, comfortable and hassle-free way of communication between the members of the group.