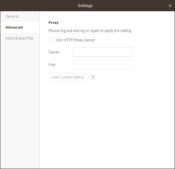 KakaoTalk for PC is a fantastic and simple application which can connect the people around the world. An essential feature of this software is the security, with new hidden chat session and of course end-to-end encrypted messages. Probably the most famous messaging app in South Korea will become an essential social application in the whole world.
What is Secret Chat? It is an astonishing feature of KakaoTalk, and if want to write a message from this secret chat room you must know the security key stored on your device. The messages can't be intercepted by the others even if they are going to break the servers. It's pretty simple to create this secret session, and of course, it will be 'invisible' until you are coming back and you will write the key. The people can initiate one to one secret chat rooms and secret group sessions.
The application installs on your computer, and it is syncing with your mobile phone, so you can write the messages without problems. You can send files up to 100MB in various file formats: images, voice file, zip files, documents, etc. These can be synced immediately with PC or mobile device.
We can't talk more things about the design of this application, and it's a simple one with beautiful colors which can be customized. Also, you can change the font and size, and it is full-customizable.
Voice Calls and Video Calls are available on KakaoTalk. From mobile device to PC or from PC to your phone, doesn't matter, the quality of the video is the best.
The entertainment is another feature of this app. You can make your conversation more fun with a lot of voice filters, video filters, with cartoons and games characters like Talking Tom, Talking Angela, Talking Ben and more.
When it comes about stickers, you must know that you have a huge wide of emoticons, beautiful themes, backgrounds, etc. You can personalize and express your feelings while sending messages, using the funny animated emoticons. The catalog of these emoji is vast, and you can find animated pigs, people, super-heroes, flowers and more. Just check it, and you will see something funny!
Channel Tab is the section where you will find information about some interests. Let's think about you are interested to see sports news or it news. There will be a lot of articles and people who have the same interests, you can socialize, you can create groups based on these activities, and you can make new friends even if you didn't know anything about them before.
KakaoTalk for PC is more than a simple messaging software; it's a combination of social media platform, entertainment platform, and news feed platform. You can have all of this in only one application, a secured tool which never lost your essential details.