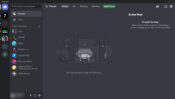 Discord is one of the most popular apps for communicating with your friends, as it allows you to send voice messages, use voice chat, create servers for your friends, and join your friends' servers easily.
In the digital world, online communication is becoming more and more important. And that's even more important if you play games with your friends online.
It can help you improve your gaming experience, but it can also allow you to socialize with your friends digitally. If you want to use voice chat, you'll need an app like this.
If you need to know how to use it, watch this tutorial:
Smooth and Easy to Use
The main way you can use Discord is by using the server-based mechanism it has in place. To chat or communicate with your friends, you'll need to create a server and invite your friends over. Alternatively, you'll be able to connect to other servers if you know the credentials for joining those servers.
The app is stylish, and the features are clearly seen and easily used, even if you're a beginner.
You'll also receive great tips as you start using this app. It will help you ensure that you use this application to its fullest.
Connect with Friends or Strangers
The best way to use this application is to use it with friends. You'll be able to connect with them and chat with them, and you can also use the voice chat function if you want.
You can create a channel or a server on which you can invite your friends. Or, you can join some open servers where people connect and communicate with each other.
You can add friends by inserting their tags. You may also connect various accounts that you might have to Discord. It includes your Twitch account, for instance. Or, you can connect your Youtube account.
It also has essential settings to help you get a better experience, such as key bindings, notifications, and others.
Conclusion
Discord is one of the most popular communication applications to help you connect with friends and make new ones.