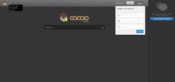 Cacaoweb provides a platform where you can communicate with your friends easily.
Apart from data searching and sharing capabilities, you can use Cacaoweb as a simple messaging and chatting application. It has the features of voice and video calling as well. All the data is encrypted, whether the messages, calls, or videos. Even the files shared across the platform are encrypted.
You can expect to use an unlimited amount of virtual space with Cacaoweb. And still, you don't have to pay for it. Moreover, the application's interface is modern and intuitive to let you enjoy all the features efficiently.
Cacaoweb is a communication platform where you can share data and exchange messages and voice or video calls with friends.