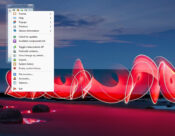 Miranda NG is a multi-protocol Open Source messenger client that embeds some advanced features into a simple user interface for which you don't have to pay a thing. The latest version is portable. Thus it requires no installation and runs low on system resources.
With over 350 plug-ins, this messenger recommends itself as a powerful contender for other mainstream solutions. And it does that by offering support for all of them, starting with AIM and ending with Yahoo.
Over 20 add-ons are ready to help you integrate Facebook or Skype, add several languages, and block annoying spam messages.
Miranda NG features and benefits:
Supports :
AIM (AOL Instant Messenger)

Facebook
Gadu-Gadu
IAX (Inter-Asterisk Exchange)
ICQ

IRC (Internet Relay Chat)

Jabber
MSN
Netsend
Tlen

Yahoo