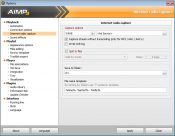 AIM needs no presentation as it runs along since 1997 and it is still over many similar instant messaging solutions. So, after sign up and sign in you are presented with a wide range of possibilities. First of all, let's not forget that you can use this on PC, iPad, iPhone, Android and everything in between. If located in US, SMS sending is supported as well as receiving a message. But most of all time will be spent on group chats.
Whether you make your entry to an existing group or create your own and wait for friends to come in, everything is done is short, simple steps.
Interconnectivity with other social services remains high, no matter if your friend is on Facebook, Google Talk, Instagram or Twitter.