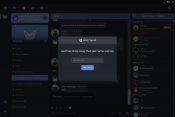 Today, there are tons of ways how you can communicate with others online. You can use an app or a simple website where all the chatting is done through the platform.
But not all of the apps that you can use are user-friendly. Some are very demanding on your computer, while others have a complicated interface.
Nertivia solves both of those problems. It's a new desktop chat client with many new and old features that will keep you chatting for as long as you want. It provides one of the smoothest chatting experiences online.
Modern and Refreshing
In the world of chatting apps, you either have new apps or players that have been in the game for decades. Nertivia falls into the first category.
It's a modern, sleek-looking app with a very intuitive and stylish interface. It's very easy to use, a part of its modern look. Also, you'll have access to many features on other apps, while others are unique to this app only.
Access it From Your Desktop or Browser
When you launch the application, you're presented with the Explorer tab, where you can easily view all the servers you can join. At the same time, you can also create your server and start chatting with friends or strangers.
You can add your channel and name it, select what people can join it, and decide whether anyone can join it.
An exciting feature of this app is that you can set up surveys. For example, you can set up a survey about yourself that others can solve, plus there are some very interesting and unique customization options that you can create in the app.
Conclusion
Nertivia is a chatting desktop app you can install easily and chat with your friends online. It's modern and sleek, with a host of interesting features that are unique to the app.