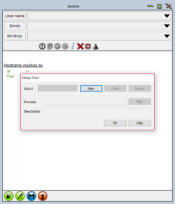 Ventrilo is a well-known communication platform that uses VoIP technology (Voice Over IP) that has become the industry standard application for communicating with other people in a fun way.
It is known to be one of the most fun platforms for communicating with other people. It uses VoIP technology for communication, so the customization options are almost endless.
It has advanced features that will make you want to customize your experience with sound effects and additional features.
Create Channels and Have Fun
Users on Ventrilo can create their groups and channels, where only a few users can participate in the conversation.
Of course, there are several options for making these channels more exclusive by adding passwords. It has a simple user interface where the users can make all the changes they want.
For example, you can easily change the look of your interface with just a couple of clicks. You can turn the title bar on and off and make other changes.
You can also use the Extended mode, which allows you to hide the user name, server, and other binding options. In general, it is quite easy to use.
Superior Sound Quality and Sound Effects
The beauty of Ventrilo is in the wide array of options users have when using this application. Each user can customize the way they sound in each channel or server.
For example, users can change their sound for their entire communication system or the selected channels or servers. It is a great way to have fun and introduce new features.
Sound effects are especially popular with users of this platform. For example, users can customize how other users sound on their applications.
It is one of the more advanced and feature-rich communication applications. It has all sorts of features that will allow you to customize your experience and have fun.
Conclusion
Ventrilo is a VoIP communications platform where you can use custom sounds and sound effects and completely customize your experience with this tool.