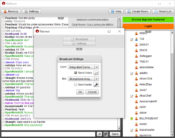 iWebcam allows you to chat and communicate with other users on the internet. With this free and lightweight application, you can start a live broadcast using your web camera.
One of the best ways to meet new people online is by chatting with them. But the problem comes when you're not able to see them. That is why webcams are made and why most people prefer to see the people they meet online through webcams. However, you'll need a tool that will help you do this.
iWebcam application allows you to meet and connect with others using your webcam. It requires an internet connection and a web camera, enabling you to meet other people, start live broadcasts, and chat with them live with the camera and other chatting tools.
A Lightweight Chatting Tool
The great thing about iWebcam is that it's lightweight and easy to use. You can download it and deploy it on your computer easily. You don't need to perform additional configurations and installations – just run it, and you'll be able to start chatting.
Then, when you run the app, you'll see that it has a relatively straightforward interface. At first, you'll see all of the features laid out nicely for you in the interface.
You can choose from various chatting means and ways of connecting with others here. You can log in as a guest or log in with your account using your credentials.
Webcam Support and Text Chat
This tool is a blend of text chat and webcam chat. It is a complete tool for online meetings and chatting with new people. You can create a new room and protect it with a password if you want a private room.
You can start broadcasting with your camera, which you can do by connecting it to your computer.
Conclusion
iWebcam is a free and simple tool for chatting with people online with your webcam.