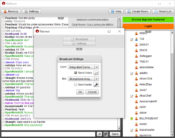 Do you have friends in different parts of the world and you are talking to them quite often? iWebcam is a handy utility that will help you in this respect.
Through this application, you can chat with various users from anywhere with just a stable internet connection and a webcam.
You can install iWebcam easily without requiring you follow complicated configuration setup that might be time taking and problematic as well. The on-screen instructions are always available in case you face any.
The interface of iWebcam is comprehensive, intuitive and straightforward where you can access all the required functions easily. Additionally, you do not have to face any surprises when it comes to some of the basic features, as they all are present in this application already.
Text chatting and video chatting are both possible through the same application. So, you can switch to this application for chatting with your friends all around the world.