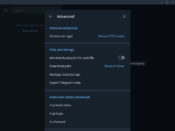 Do you use Telegram? Then you will be pleased that you can download a desktop application of Telegram called Telegram Desktop, which will allow you to communicate with your friends from your desktop.
Telegram is one of the largest communication applications in the world. It has millions of users worldwide and is known for large-scale communication projects, such as big groups of people talking to each other.
Still, it's also great for one-way communication and private chats.
And if you want to use it on your desktop, you can download Telegram Desktop and start chatting now. It will help you stay in touch with others, participate in group chats, or talk to your coworkers easily.
Telegram is known for good security and fast syncing, which is useful when sharing files with others.
Secure and Fast
One main advantage of Telegram over other chatting apps is security. It is much more secure than other larger apps, such as WhatsApp.
Because of this, Telegram has been used by many business users to conduct their daily work, and it is also widely used by teams that need to communicate daily.
Share Files, Chat, Send Broadcasts
You'll find a wealth of options when it comes to communicating with other people. Not only is this a chatting application, but it can be much more than that.
It allows you to share files with others, which you can do simply by uploading the files into the window. Or, you can instruct the app to sync with the files you have on your drive.
This app is also used for large broadcasts where users can create groups of over 2000 people and chat with them. It is good for one-way communication, which is great for various users.
Conclusion
Telegram Desktop is the desktop version of Telegram, and you'll want to download it if you're going to chat with other people with ease.