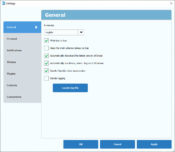 It is a messaging platform that can provide the facility of sharing simple text messages and file transfers. Additionally, voice and video messaging are also supported.
Some of the features of Brosix include co-browsing, sharing screens, along with the chatting options. With this application, you can expect a better level of interaction between the members of the group or coworkers, which can lead to improved performance.
Editing the profile, sharing status and viewing your contacts are all possible through this app. The interface of this application is similar to some of the popular chatting applications.
Whiteboard feature is one of the prominent features of this app. Through this feature of your application, you can manage to share the images, edit them and annotate them according to your needs.
Multiple workers and colleagues can share the data and indulge in-group chats with it for saving your time while sharing all your ideas for generating the best results.
Brosix is a comprehensive but straightforward messaging application that provides all the features of the existing message applications along with some of the distinct ones.