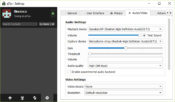 qTox is a safe and easy to use instant messaging tool that will put primary focus on the security of use, as it uses the cryptography settings from Tox protocols, meaning it's completely safe to use.
The world of instant messaging tools are becoming increasingly developed, and there are more options on the market than ever.
However, with the advent of cybersecurity threats and various hackers and scammers looking for your information, you can never be too safe when chatting online. That's why an application like qTox can be a great option.
It's a clean chatting application that puts primary focus on safety and security. But at the same time, it still makes sure it's as functional and as fast as possible, allowing it to come toe-to-toe with some of the largest chatting applications in the world.
Secure Chatting Application
The main focus of qTox is on security. To allow you to chat safely with other people and friends, it uses Tox protocols, some of the safest protocols you can use for chatting. It has powerful cryptography algorithms, which allow you to stay safe and keep your information hidden.
Thus, you'll send encrypted messages that will hide your profile from the public, and your messages will not be logged.
Chat, Send Audio and Video Files, and More
Primarily, qTox is a chatting application, which allows you to send text chats to other users. But that's just its main use, and there are many different ways you can use this application. You can also start conferences, which can include several people inside the conversation.
You can also send emoticons, create contact lists, and customize your profile.
What is more, you'll also have the ability to send audio and video files within the chat. It gives you a good number of options to help you get the most out of a chatting application like this. It's a complete yet very secure way to communicate with other people.
Conclusion
If you care about being safe as you chat with other people, you must consider using qTox, a safe and secure chatting application.