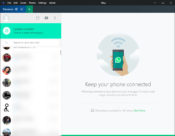 Altus is a tool that allows you to improve the look of WhatsApp messenger on your desktop for multiple accounts using various themes.
It can be used for different accounts at the same time. It allows the display of the notifications for new messages and the use of custom themes that can be developed by each one according to their needs. Furthermore, it also allows the use of the dark mode all the time.
The Settings section allows you to define several options: the presence of the icon in the tray, ask for confirmation when the application is closed, the creation of a custom title for the session, the alert when closing a tab.
Altus is an application that allows you to customize WhatsApp graphics on your desktop with just a click.