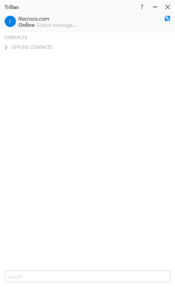 Trillian is an intuitive and reliable all-in-one chatting application with some of the most advanced communication features, allowing you to connect to all your social media accounts, too.
Never has communication been more accessible than it is today. Online chatting is becoming more and more advanced. Various apps create an unforgettable user experience where you can chat with all of your friends in one place.
All these apps are scattered, so you'll have to import and export your contacts continuously.
Trillian will solve that issue for you. It will offer you one of the best experiences regarding chatting applications worldwide.
You'll be able to communicate with your friends with all of the most modern tools and integrate your friends into this application from your social media accounts instantly and without hassle.
Connects Your Contacts In One Place
Its biggest advantage over similar apps is that it will gather all your friends from your social media accounts and phonebook into one place.
It allows you to chat and talk to them without worrying about importing your contacts from other platforms or switching to another platform to speak to one of your contacts.
It will work with some of the biggest messengers, such as AOL Instant Messenger, Yahoo Messenger, Google Talk, Skype, ICQ, and your social media accounts, such as Facebook, Twitter, LinkedIn, and others.
Before releasing the product, the latest security features have been considered to know that your communication is secured.
Simultaneously, interoperability was further improved, so you connect with friends on almost all social platforms or log in with your Facebook or e-mail account.
Fun and Complete Conversations
What is more, Trillian is a fun experience. It has all the tools you'd need for modern and fast conversations and provides you with a lot of fun, too.
For instance, it has many fun emoticons that you can use to get more out of your conversations and connect to others. These are all compatible with other messengers.
Conclusion
Trillian is a great solution if you want to talk to your friends in one place without constantly switching to other platforms. It's easy to use and has all the tools to help you have a great experience.
Trillian features and benefits:
keeps all of your devices synchronized throughout the day
chat with contacts on different networks
security and privacy guaranteed
social networking support

mail integration