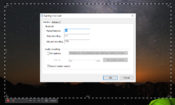 iSpring Cam helps the users record the screen activity of their device, capture screen images, and edit the recorded videos to share or maintain the records.
Access and usage of this application are easy. With a simple click, you can capture the required image or video. Additionally, the editing tools available in the application are organized to provide easy editing even if you are not a professional editor.
iSpring Cam provides a resizable frame for your images and videos so that you can focus on the right part of the screen for a better explanation of the content. Filling in a specific size in the dialogue box or the drag-and-drop feature can adjust the size.
If you want to explain your videos or provide engaging music, you can do both through a single application. Audio capturing can also be enabled with this application to record audio with the video for better guidance. This audio feature also supports the incorporation of music files while capturing videos.
The cursor highlighting feature provides ease in emphasizing a particular point or guiding beginners to perform specific steps efficiently. The editing feature of iSpring Cam is comprehensive enough to allow you to delete a certain part of your video by providing the timestamp.
Therefore, you don't have to start your video again if something goes wrong while recording. Additionally, muting the volume, adjusting the sound volume for a different section of the video, and applying the fade in and fade t settings are some editing tools you can use through iSpring Cam.
One of the limitations of this application is that it does not support a webcam.
Overall, iSpring Cam allows users to record screen videos, capture screen pictures, and edit them for a perfect tutorial.