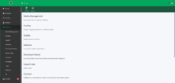 It is an application to provide you with an enormous music collection if you are a BitTorrent user. Through Lidarr, you can monitor the RSS feeds from multiple sources and can track the new albums or songs from the favorite artists of yours'.
You can quickly get the files online because of the unique search feature offered by the application. Downloading, sorting, and renaming the files become quite comfortable with this app. Moreover, you can even change the settings of the application based on your choice.
One of the basic settings you can modify is downloading the better quality of audio files even if a particular audio file exists in your system. In this way, you can get the best available quality with you without putting in much effort into doing so.
You can set the time for the release of new albums, which can be displayed in the form of a calendar, so you can be sure that you won't miss any of the latest music. Additionally, the search bar provided by Lidarr ensures that you can get all the release versions at your access and then choose which of the versions you need to install.
If any of the files doesn't work, you don't have to worry about it. It can manage the failed downloads by providing access to the download link that will give you the quality audio file. It can be used with any of the operating systems so that you can manage all your audio files quite easily.
Lidarr is an application that provides you easy access to any of the required audio files, whether released recently or already out for some time.