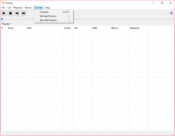 fmedia is a complete, all-around media player that offers you a top-notch media player combined with the converter and a recorder, which can be useful in various ways.
If you've been longing for an application that can do it all, then you should take a look at fmedia. It is primarily a media player that will play different media types.
Still, it also comes bundled with other functions such as a converter and a recorder, which will suit a wide variety of tastes. It offers many other functionalities, so read on to find out more.
Create Playlists and Enjoy Your Content
The primary role, or the function, of this application, is to act as your media player. It will help you play your music and create playlists that you like to create, making your music library much more organized. The interface will seem a bit old at first, but you'll see that it offers many options when you dive deeper into it.
One of the downsides with playlists is that you can't rename the tabs inside the playlists, so you don't know which one you're playing.
But that can be solved when you save the playlists, so it's not the biggest concern. It's compatible with MP3, OGG, OPUS, MP4, M4A, MKV, AVI, FLAC, WAV, and some others.
Convert, Record, and More
But fmedia is more than just a media player. It comes packed with other useful features that users will love. One of them is the converter, which will help you convert media file types into the file type you need, which can provide you with a bit more versatility.
Then there's also the audio recorded, which will allow you to record pieces of audio for your needs. It is essentially a recorder with various functions such as intervals, adjusting parameters, changing the bitrate, and much more.
You can even record audio in the FLAC format with a few simple default settings. You can change these default settings, but you'll need the console application for this purpose.
Conclusion
fmedia can become your hub when it comes to your audio content. It can act as a media player and a converter and recorder, allowing you to use various functions seamlessly.