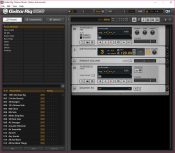 Are you a guitar player? Then you will love Guitar Rig –an application that offers you a vast array of studio options, such as amps, cabs, and mics, which lets you create your favorite guitar sound.
It is a software application for PCs where you can use the extensive library of studio effects for your guitar to create your preferred guitar sound.
You can choose from a huge selection of amps, cabs, and mics, which will help you create a distinct sound for your guitar. You get total control over your guitar, bass, and more.
Use Legendary Amps
Every guitar player must wonder how the Beatles or other rock groups or guitar players created the sounds they did through the decades. And with Guitar Rig, you can now explore just how it felt to use those legendary amps, and you will feel like the stars of the 20th century and the modern era.
Each amp will have its cabinet, and there are also 27 cabinets. It adds charm and creates a unique feel to each guitar sound, making your guitar playing extensively unique and engaging.
The Control Room
The control room is a place where the magic happens. It is where you can customize the sounds and tailor them to your preferences. You can discover and explore different amps, cabinets, and mics. You can fine-tune the sound to create that unique sound for your guitar.
There are 54 different stompboxes and unique effects, and you can choose from legendary pedals to more complex studio tools.
You can use these tools on almost any sound you can think of – vocals, synths, drums, or even organs.
To Conclude
Guitar Rig is the complete audio studio that will help you change and create unique guitar sounds using the legendary tools of some of the world's most famous musicians.