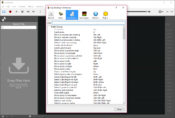 An application that works as an audio editor, ocenaudio will provide the users a different experience. The interface of the application is modern and provides all the necessary features to ensure perfect audio editing. You can add the tracks to be edited in the given space find the waveform being displayed on the interface as well and adjust the audio file through various tools present.
If you want the spectral view of your audio file, you can even manage that. Moreover, various time formats are also available, through which you can get a better idea of the audio of the file. A detailed analysis of the audio file is also supported by ocenaudio, through this analysis, you can get to know the maximum and the minimum value, DC offset, RMS power, and the peak amplitude that your video has.
You can select different portions of your audio file and apply a particular tweak to make those portions better. The unselected portions won't be affected at all. Reversing, inverting and silencing are some of the basic features that are available with this audio editor. You can even delay the effect, add damping and implement the high pass low pass filters.
The implementation of the changes in the audio file is implemented in real time so that you can manage the changes quite easily according to your needs.
Ocenaudio is an efficient audio editor, which can make the editing process handy and practical with its modern interface and many features.