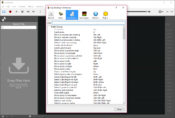 ocenaudio is a cross-platform, easy-to-use audio editor that will provide you with some useful editing tools and many audio effects so that you can create your preferred audio tunes.
Audio editing is one of the more complex things you can do with your computer, and that's mainly thanks to some very complex and detailed editing tools that make it even tougher.
To make it easier for yourself, you can use ocenaudio, an audio editing tool that focuses on simplicity and availability rather than complex features.
Great Mix of Usability and Features
Don't be mistaken: ocenaudio still has some very advanced editing tools and techniques you'll find in the most accomplished audio editors.
It's just that this tool's use is much simpler and streamlined than other editing tools that have the same features.
When you open the app, it won't be that hard to get around and get started. You will be able to add tracks quickly, and you'll see clearly how to do that from the start. Then, there's the large waveform area where you'll be able to see your track.
You can use the effects, add them quickly to the track, and use the user interface to make it easy for you.
Both Basic and Advanced Tools
One of the great advantages of ocenaudio is that it's user-friendly, but it still offers some advanced editing tools.
You can select a part of the waveform and cut it or copy it, edit it as you want, add audio effects, and apply various adjustments to multiple sections of the track that you've selected. Freedom is great here.
In terms of effects, you will also have many different options. You can use silence, reverse, invert, normalize, and many others. You can also edit the amplitude and more.
Conclusion
ocenaudio is a widely available, cross-platform audio editor that's intuitive to use and comes with some neat editing tools.