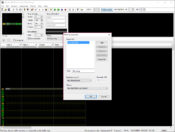 Music is one of the greatest multimedia items that can enhance the file's overall capabilities or a project. If you have WAV files, you can incorporate music into them using FamiTracker.
It has been for easy use, but you still can face some problems in managing the operations of Famitracker efficiently. However, it is not very complex, and you can gain expertise quickly. The list of instruments and visual representations of notes in the windows makes the entire music creation exciting and worth exploring.
Using this application, you can create your instrument sounds. By adjusting the pitch, volume, and other music characteristics, you can create a customized version of every instrument. Making all these changes in the instrument characteristics is possible through the keyboard.
One of the drawbacks of FamiTracker is that the layout for each key of the keyboard is not available, so you will have to use the trial-and-error method to reach the right note. It can frustrate you a bit, but good music comes with effort.
FamiTracker can create sound effects of your choice from the instruments you like for your WAV files. Apart from the compelling features, the lack of a note indicator is one of the drawbacks of prolonging your work.