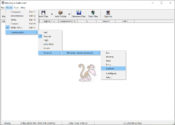 Monkey's Audio enables you to compress WAV files as APE files, which is where the name comes from, allowing you to keep the quality of the files while also converting the files securely.
The application provides you with a powerful and effective solution for transforming WAV files into APE files.
It will help you reduce the space you need on your computer to keep these files while also making sure you don't lose the quality of the sound of your files.
It's easy to use and very effective for transforming your files.
Compress and Decompress Files
First of all, we should mention that Monkey's Audio focuses primarily on ease of use. Therefore, installation should be quite simple, even if you're not an advanced computer user.
After installation, you'll enter the application's main interface, which is easy to navigate and contains all the necessary tools easily accessible to you.
The main purpose of the application is compression and the decompression of the files that you have.
The main possibility here is to work with .wav files, as you'll have the ability to transform them into other formats and compress them. In addition, you can switch between different compression formats, including .ape, shn, wv, rka, mp3, mp+, and ogg.
Creates Smaller Files
Another advantage of using this compression tool is that you'll be able to save space as you compress files into smaller files of other formats.
It will enable you also to reduce the size of the compressed file after the compression is complete. You'll be able to select the size of the file as well.
You can also tailor other aspects of the applications and files you compress, such as the maximum number of running files, process priority, and different settings that will enable you to complete control over the process.
Conclusion
To conclude, Monkey's Audio is a neat tool for compressing and decompressing files, especially from the WAV format to the APE and several others. It will help you keep the quality of the files intact while also saving space.