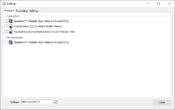 SoundSwitch is a utility for Windows that allows you to easily switch back and forth between different playback devices connected to your PC.
With a specific and pre-set hotkey combination, you can switch between your preferred sound cards and use the one you need to use at a particular moment.
Switching Between Sound Devices Made Easy
Normally, a computer will allow you to hook up several sound devices or sound cards, including playback devices. That's why it's important to have a way to switch between these easily so that you don't have to do it manually.
The process can take time, as you need to go to the Control Panel menu and select the device you need to use. However, not if you use an application like this one.
This software does all this by simply pressing a hotkey combination of your choice. It's a small application and very convenient for making fast changes between the sound devices connected to your system.
It's a little tweak, but for those who use different playback options regularly, this application can save them hours per week.
Easy Configuration of Sound Devices and Shortcuts
The application, in this case, doesn't require a lengthy installation and, later on, configuration. Everything is straightforward to use, and it will take you only a few minutes to get everything done. And from then on, everything can be done by pressing a couple of buttons on the keyboard.
SoundSwitch will run in the background. For first-time use, you'll need to select your preferred hotkeys to make the application useful. To do that, access the Settings window within the app's interface. You'll need to open the app in a window to access these settings.
From there, you'll be able to configure the hotkeys for each sound device. For selecting one sound card, for example, you can use hotkeys.
These are composed of several keys on your keyboard, so to select your preferred sound device, press on the keys you set for hotkeys in the settings, and you're done. No searching through the Control Panel.
Widespread Support
The application will remember the configurations the next time you open your computer. So you only need to do it once, and you're good to go.
In addition to easy use, the application also features widespread support for different sound devices. These devices include sound cards, digital audio, headphones, or playback devices.
Conclusion
SoundSwitch is a great utility that helps you switch between different playback devices connected to your system by using a combination of hotkeys, which makes the switching fast and easy.