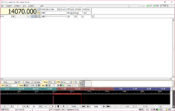 If you want to take advantage of the power of radio, then you need some tools to do so. Transforming your PC into a radio station is possible by the use of Fldigi, a small utility which is going to do the right job.
This tool can quickly transform a computer into a radio station. It is a simple to use modern application which does the job only by using your sound card.
Fldigi can be easily changed the way you liked and customized so that it has a look you want. After you get it, you have to go through the configuration wizard and choose the settings you would like to receive. It is important also to read the manual, so you learn all of the things you want from this tool.
It isn`t hard to use this tool, and you can see that any user can easily understand how it works. If you are passionate of radio signals, then this tool can be a great way to discover more things about your passion.