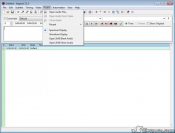 The film industry has evolved massively in the last decade, so the languages in which movies are recorded have extended too, meaning subtitles are a must for almost every video we watch. It is where Aegisub comes in handy!
It is a free, cross-platform aimed at creating and modifying subtitles. With a comprehensive interface, this software makes it easy to time subtitles to the audio track and style them. The powerful tools it provides include a built-in real-time video preview, so that subtitle syncing is easy to accomplish subtitle syncing.
This software is a fully-fledged, highly customizable subtitle editor, suitable for both expert users and novices.
The most important feature is Automation and is represented by a powerful scripting environment used for creating macros and other similar actions. For those seeking to sync easily, edit, and translate their subtitles, this application is the best choice.
Aegisub integrates the most used features without being overwhelming or difficult to use.