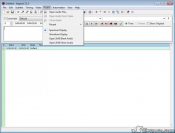 Aegisub is a complete subtitle editor that will allow you to create and edit ASS, SSA, and SRT file formats, so that you can edit translations and subtitles and enjoy movies in your language.
Watching movies and series is one of the world's favorite pastimes. However, one of the problems that often arises is the lack of subtitles in a selected language for movies and series. That's why more and more translators are constantly looking to create subtitles for movies, especially for hot and popular titles.
You can create your subtitles now with Aegisub. This app is designed to help you create subtitles by creating ASS, SSA, or SRT files.
You can also edit these files to tailor the subtitles to your needs. It has all the tools you need for professional and casual use.
Edit and Create Subs
Even if you enjoy watching movies, one of the main concerns is a lack of subtitles or corrupt subtitles. The great thing here is that if you know how to make them, you can do them yourself with the professional tools offered in Aegisub.
Inside the interface of this application, you'll see all the necessary tools to help you create and edit subs. Some tasks can even be automated, which can help your process and make it even faster.
You can select the parts of the subtitles you want to edit, write new text, and make other text adjustments according to your needs.
Adjust the Subtitle Style
While the correctness of the subtitles is important, it's also worth considering the style of subtitles you have. Many apps now offer you the chance to tailor the subs to your needs completely, thanks to the ones you have in this utility.
It makes it easy to create or edit titles and use your style.
Conclusion
Aegisub is a highly popular app for creating or editing subtitles, allowing you to enjoy your movies and create or edit subtitles that are incorrect or not working properly.