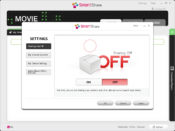 Thanks to LG SmartShare, it is possible to transfer multimedia files like music, videos, and applications from an LG Smart TV to other devices via DLNA technology. This tool provides the user the possibility to transfer the files with ease. You should use a TV set running at least Netcast 4.0.
It allows you to preview and check multimedia files before sharing. It has a modern, user-friendly interface includes three main sections: music, videos, and pictures. You should first check if the devices are on the same network to ensure proper communication. You should ensure the folders are selected in the My Shared Content tab.
The application adds standard directories from your computer, like Pictures, Music, and Videos. It is as simple as it looks; any user can use it to transfer their wanted files. It is also possible to preview the videos or even play the tracks to ensure you are migrating the correct files.
You can list the devices you want to share this content with. It also has a feature that lets the user share the content on any device he wants. It displays the allowed devices in blue and the blocked ones in red. It is possible to add or remove individual devices, and the user can also opt for allowing or blocking all of the devices that use the same network.
LG Smart Share lets you easily migrate the desired content with just a few clicks.