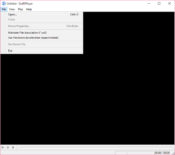 Swiff Player is a utility for SWF addicts that allows them to play .swf animations and movies. It has a simple and easy-to-understand interface that can open a .swf video using either the file browser or the "drag and drop" method.
This application is primarily designed for those who want to play videos and movies in this format, which will suit web designers and developers.
Playing the files with this app is easy and intuitive, which allows beginners to use it, too.
Drag and Drop Interface
Swiff Player is an intuitive app to use. You can add files you want to play into the interface by dragging and dropping them into the interface. Or you can use the old-school method, which is going through your files library, finding their location, and then clicking on them. It's easy to use this app.
You can also view the properties of the selected SWF files you want to play. For example, you can view these file sizes, dimensions, frame rates, and numbers.
Then, you can start playing these movies and have your typical movie player at your disposal, with movie controls such as play, stop pause, and more.
Use Keyboard Shortcuts
It utilizes keyboard shortcuts to simplify things, allowing you to use several functions by pressing one key on your keyboard.
It can be a great time-saver so that you don't have to access your mouse whenever you want to change something with the player or the video you're watching.
Moreover, you'll be able to use hardware acceleration with this app. Note that this app can use a significant chunk of your resources, so be wary of that.
Nevertheless, it's a great app even for beginners, although it requires some more resources if you want to use hardware acceleration.
Conclusion
Swiff Player is an effective media player for playing your SWF files, which can be useful for web designers and those with many SWF files in their libraries.