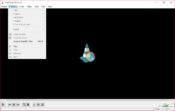 If you want to play multimedia content without having to download it in your computer, Ace Stream is an easy to use application that enables you to watch any movie you want on the fly, based on a .torrent file.
It is a known thing that internet video streaming is quite common thanks to the rise of popular websites such as Twitch and YouTube. It is essential to stream in HD without downloading the actual multimedia content on your hard drive.
Ace Stream delivers high-definition video streams directly on your computer without the need of having to download the files beforehand. It has a lot of tools working in tandem to make the technology viable.
You are not required to download the content beforehand, and you need enough space on your drive to hold the cache folder where your streams are temporarily stored. This stream can be accessed on any browser, and the tool works based on P2P technology.
It has a new and innovative multimedia platform with various techniques that come together to deliver a great streaming experience. It uses the BitTorrent protocol to connect you with others worldwide to facilitate the data transfer of larger videos.
The platform can be used for many applications as well, such as broadcasting and also live streaming. You can even stream in full-HD 1080p format.