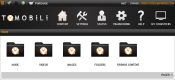 TVMOBiLi is an UPnP and DLNA compliant media server compatible with mobile phones, TVs, Blu-Ray players and Game Consoles. Running on a Dynamic Media Engine, it also connects with Samsung AllShare devices, thus supporting subtitles on almost all media formats.
Music, videos and photos can be shared over the internet in an easy and secure way, as the user is in full control of who can access streamed media, by adding or removing friends from the sharing list. Full HD videos can be wirelessly streamed from the computer to any connected device.
This media solution also gives access to iTunes libraries. Keep entertained from wherever you are, because the content is easy accessible on any device running this free media server.