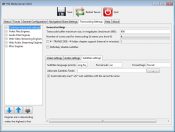 PS3 Media Server is a DLNA-compliant UPnP media server that started as a PS3 app and grew to support many other media renderers, such as smartphones, music players, and TVs.
With the PS3 Media Server's features, you'll be able to use an extensive list of supported devices. It includes Google Android, Xbox 360, Philips Aurea, Net TV, Xtreamer, Brite-view CinemaTube, Samsung TVs, WD TV Live, XBMC Media Center, and many others.
At the same time, you'll also be able to replay practically any type of media of your choice on your console, which you can do through the DLNA client and play on a Smart TV.
Digital Media at Your Command
Sony made the first venture into the DLNA server media playing was made by Sony in 2003. It allows users to play other media files on various interconnected devices.
They developed a non-profit trade organization to support sharing of multimedia and digital media and files among different devices.
With that in mind was created the PS3 Media Server. This server's role was to host multimedia files that could be played on the DMR, an interconnected network, making it easy for users to play various files on this network.
So you can play various media files through this application on your smart TV right through your PS3.
Simple Interface
The modular interface makes it easy for users to manage the media files available on the server. It's also easy to control and organize your files inside this server. Although you want to make the most of this app, you'll need decent knowledge and skill about this entire technology.
It's a pretty robust application and interface allowing you to tap into your multimedia collection and play it through the DLNA player on your Smart TV.
It allows for real-time transcoding from DVD, BluRay, and ISO images. It also allows audio transcoding from audio formats such as the Internet, TV, radio, videos, and more.
Conclusion
PS3 Media Server is a useful DLNA server that will help you playback most of your audio and video files. Almost all media formats can be streamed or trans-coded using MEncoder, FFmpeg, tsMuxeR, and AviSynth codec.
Little configuration to none is needed to use it. Functions may be extended with plug-ins available on the app's site.