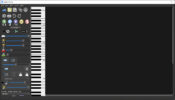 With AnthemScore, you can easily create music sheets from your favorite songs you play or listen to. Playing instruments is a nice activity to master, and many people want to master one or more instruments. However, the itch to create music is still there for many people.
And if you want to create a song or anthem, you will have several options. The best one is to use an application that will help you out.
AnthemScore is one of those applications that you can use. It will enable you to create musical spectrograms automatically for your favorite songs and tracks.
It comes with a modern interface and supports all the major and most popular file types, which gives the app much-needed versatility.
Modern and Sleek Looking
When you first enter AnthemScore, you will be impressed by its interface. It might look intimidating initially, but it shouldn't be too hard to use if you have some experience with similar applications.
You'll have two main windows inside the main interface: one for altering the settings and seeing the spectrograms you create.
Supports Most File Types
To create your anthems from your favorite tracks, you only need to select which song you want to use, and the app will do it automatically. It is great because it will make your life much easier in this respect.
Another great thing to mention is widespread support for different file types. You'll be able to work with all the major file types, including MP3, WAV, WMA, M4A, MP2, FLAC, OGG, AIFF, and others.
Conclusion
AnthemScore enables you to create spectrograms of your favorite songs so that you can create your anthem.