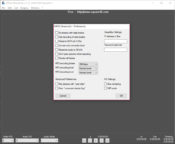 If you want to get your videos played, edited, and converted from one format to another, you should use MPEG Streamclip.
It can manage multiple formats like MPEG, QuickTime, and transport streams. You can also import files from different software, edit, and mux and demux. After that, you can also export the files you have written through this application.
Some formats that can be used and converted from one to another using MPEG Streamclip include MPEG, VOB, PS, M2P, MOD, VRO, DAT, MOV, DV, AVI, MP4, and TS. However, these are not the only file formats this converter supports; a wide variety is available.
You can get high-quality videos through MPEG Streamclip. You can also download, edit, and export the audio and video files.