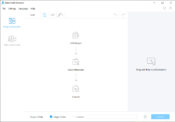 It is an application to help you remove the watermark from different images. Apart from watermarks, other unrequired objects can also be removed. Watermark Remover can help you in making the images and pictures perfect. This application can remove any watermarks, dust, logos, and scratches that are creating problems.
Apart from pictures, video watermarks can also be removed. One of the prominent features of the application is easy to drag and drop functionality. You need to mark the specific area of the picture or video that you need to remove.
Additionally, you don't need to convert each of the things that you need to remove from the picture in isolation. Instead, it can be removed in the form of batch processing. With the application of all these changes, you don't have to expect the change in the format or the quality of picture that you have. It will remain as it is.
One click watermark-removing tool can save your time and make your life easier furthermore, it is available for free as a trial version but you would require purchasing the application when you'll find it useful.
Watermark Remover is an application that supports the removal of the watermarks from the pictures and vids with only a single click.