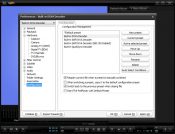 PotPlayer is a media player that helps you enjoy the experience fully. You can sit back and enjoy your movie, listen to music, and enjoy almost any multimedia file on your computer.
Multimedia players are quite well-developed today. The competition is fierce, so these programs constantly need to develop new features and ideas.
Normally, free products tend to be valued a lot by consumers, although many of these bring out many useful features that help users watch and listen to various files.
One such product is PotPlayer, a media player that supports a wide variety of files and allows you to listen to music, watch videos and movies, and enjoy the wide variety of media files you can use.
It's also free to use, making it a popular choice for people who love a good media player that allows them to enjoy themselves.
Enjoy Your Media Library
If you have a massive media library but don't have a good media player, here's a good solution for you: PotPlayer. It's free to use and has a nice interface that also looks quite modern. The setup will not take that much time, and it's the usual setup process you can expect with files like this.
Although it does have a minimalistic interface, on the screen, you'll be able to see all of the buttons that will allow you to control your experience, such as the play and stop button, playback options, volume slider, preview section, and other buttons.
You can toggle on a playlist and enjoy it. Nothing too fancy, but it's everything you need to enjoy.
Suitable for Many Types of Files
One of the best things about this player is his versatility.
You'll enjoy various files, including AVI, WMV, MP4, 3GP, FLV, MKV, MP3, WAV, FLAC, AAC, APE, and all the most common file types used for music and playlists.
Conclusion
PotPlayer is an easy-to-use media player that supports various files to enjoy your media files on your device.
PotPlayer features and benefits:
Powerful hardware acceleration
Amazing 3D viewing experience
Subtitles support for many formats

Plethora of codecs to choose from