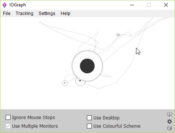 IOGraph is a useful simple-to-use utility because it will track your mouse's movements. After monitoring the actions, it is easy to use this tool to translate the mouse movements into simple drawings.
There are some instances when you must track your mouse movements, and therefore you need a tool that can easily do the job so that you can follow your every move.
The user can easily save the resulting PNG image. It doesn't require you to install anything, but you need Java to be installed to use this software.
IOGraph has a simple-to-understand interface. All you need to do is click on the triggers, so this one starts working immediately. After doing so, it starts drawing as you move your cursor.
It won't show any errors or lag and can be used because it will do the job right.