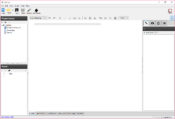 Write scripts, create and produce media, and collaborate with others using Celtx, an application designed to help you develop scripts for various media types.
Working with scripts demands a lot of attention to detail and also a lot of concentration. The organization is also important because you'll want to ensure that all team members can easily read and remember the script.
But for that, you'd need a dedicated piece of software that will provide you with the necessary tools.
One such application is Celtx. It is an application for anyone with various media types, as it will allow you to create scripts and collaborate with others on multimedia projects.
It's designed to be suitable for almost any type of media, including stories, films, music, comic books, novels, and more.
Versatile
It is suitable for almost any user who needs a good tool for creating scripts and collaborating with others. It will help you with many projects, including films, music, books, novels, comics, plays, and more.
The application comes with preset templates and samples you can use to get started. Moreover, you'll have access to a simple interface where you can apply changes to the script.
You can see the project library, navigate through the script, and view scenes if you have some, making it easy.
Collaborate with Others
You can, of course, add text to the script and other parts of the media. Once you're done, you can share this script you've created with others so they can also contribute.
You can access a chat tool to discuss the project with other team members and have suggestions ready for you when you need them.
Conclusion
Celtx is a complete tool for anyone working on a media project, be it a movie, play, film, script, book, novel, or other media type, as it comes with tools that enable a good level of versatility.