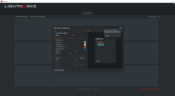 Lightworks is a great application for beginner and advanced users that will help you combine the footage to create composite video clips.
Import local media files or import your camera's live feed and put the footage together to create composite video clips for your use and edit them later on.
Editing and creating composite video files is difficult if you don't have the right tools for the job. If you have the right software for it, you'll have to know how.
Great Editing Options
First, let's mention that Lightworks is quite a comprehensive application and comes with some pretty neat and advanced editing tools.
It means you'll have to have at least some knowledge about the editing tools in question. Still, if you're a beginner, you can use as much about it as you want.
The great thing here is that you don't need to do any transcoding before using the app. You can work with several formats straight off the bat, such as DVC HD, RED R3D, DPX, AVCHD, H.264, and XDCAM EX.
It will help you input the files you want easily and quickly without worrying about compatible file formats.
Add Effects and Create Projects
As we've mentioned before, this application has some pretty advanced editing tools that you can use to enhance your videos. You can choose from various video effects and transitions to make your footage seamless and great. You will also have the option to select the single or dual-screen, making it easy for you to edit better.
You can also add videos, pictures, and audio to the stuff you create to enhance this tool's experience. In essence, it's a complete editing tool.
Conclusion
With Lightworks, you can create cool videos from the footage you have on your computer or your camera's live feed by using various editing tools.