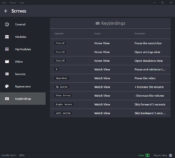 With Leonflix, you'll be able to crawl video and file hosting websites to find the content online that you're looking for so that you can add it to your library of files and watch them later.
Online streaming provides a great way to watch videos and movies without downloading them. However, many have ads, some of which are not the best to use, and some users prefer to have the content on their computers rather than online, so they can access it offline.
With Leonflix, you'll be able to do just that. You can watch the playback of the selected files and videos you've decided to extract from hosting websites. It includes some of the biggest streaming sites you can watch for pleasure or education.
Get Videos from The Most Popular Streaming Sites
Streaming sites are huge, and many have different types of content. Some are purely educational, which includes lections and various instructional videos.
With Leonflix modules, you can select and find almost any content you want. For example, it will allow you to get content from sites like Khan Academy or OpenCourseWare. You can paste the magnet code into the search bar and stream the torrents.
Or, you can arrange to use them as playbacks and watch them whenever you like.
Use Leonflix Modules
With Leonflix modules, you'll have the option to customize your experience fully. The community creates modules, and each module system is different. Some allow you to crawl only specific sites, while others are more general.
These modules are created to help you expand your library and have as diverse content as possible. And you can always get new modules as the community constantly creates them.
Conclusion
Leonflix uses modules to bring you the top content from streaming sites that will allow you to enjoy it as you wish.