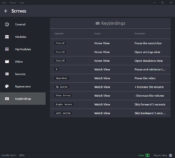 Leonflix allows you to watch movies and TV series at any time for free. It provides you the opportunity to find your favorite series or TV programs and watch them online without paying anything. You need to look for the required content, click on play, wait for a few seconds, and watch the favorite title.
The application is simple and easy to use, which makes the user experience better. Actors, a summary of the story, and the year in which it was on-aired are some of the details that you can get about a particular video. It makes the search of the content easier on the application.
Moreover, it allows add-ins, so the range of features can be significantly improved through this application. One of the problems you can have here is that the application's service can go down anytime, and you will not have a channel to register your complaint.
Overall, Leonflix is an efficient application to watch dramas and series that you love.