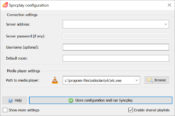 SyncPlay is a fantastic application that you can use to watch videos and movies with your friends, even if you're far away from your friends, through this playback syncing application.
Watching movies with friends, having a few drinks and a snack, and enjoying their company as you watch a movie is one of the more fun activities you can do. And today, with the technology that we have, it is entirely possible to watch movies from your home and still feel like you're there with your friends.
To watch movies with other people, you can use SyncPlay. This application will synchronize the playback of your files, such as videos and movies, with your friends, enabling you to watch movies and stream videos to them.
It supports some of the biggest and most popular video players and some additional functions to enhance the experience.
Works with Popular Video Players
One of the biggest advantages of this tool is that it is compatible with some of the biggest and most popular video players out there. These include VLC Media Player, GOM Player, Media Player, MPC-BE, and of course, several others.
To connect with your friends, you'll be able to create virtual rooms so that you can chat with friends and start enjoying the movies of your choice. You'll have access to public servers as well if you want to join a server and chat with strangers.
One of the things you should note is that the application will only support the playback of videos you play on video players.
Pause, Unpause, and Control the Video
For a better experience, you will have control over the videos and movies you'll play as you'll be able to pause them and play them again at your will.
The client will act so that it will keep track of every person's playback and the current syncing status so that even if you pause the movie, the other people will not miss a thing nonetheless.
Conclusion
SyncPlay is a popular application for watching movies with other people and sync playbacks of video files with ease.