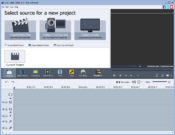 You must use AVS Video Editor to edit your videos with some available features. This application can handle videos in different formats. Some prominent formats available for editing or saving the videos include VOB, AVI, MP4, DVD, 3GP, WMV, MKV, and MOV.
You can trim, cut, or split your videos with these video formats. Additionally, you can rotate or merge two videos. Additionally, you can have 300 different effects to edit your videos efficiently.
Apart from the numerous video options in this application, there are various options for adding text and audio files to the videos. You can also add comments and subtitles to the videos too.
Another feature you can get is that the impact of shaky videos can be lowered in the best possible way, making your video look better than the original. Embedded video cache technology is also part of this application, because of which the process of editing can be sped up.
The application supports Blu-ray and VHS camera videos. You can also save the edited version of your videos on the hard disk and DVDs.
Sharing videos is also not a problem as it supports Facebook, Twitter, MySpace, etc. Moreover, multilingual support provided by the application makes its usage easy.
AVS Video Editor is a rich video editing tool that allows you to incorporate audio and written text within it, edit the video, and include different sorts of effects and transitions.