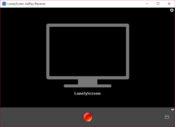 Do you have an iPhone, iPad, or another Apple device and want to share its screen with an external one? You can use LonelyScreen to do that, as you can cast your screen to an external one.
Apple users often use AirPlay to cast their screen to another device, but the problem comes when you don't have a screen compatible with this app. You'll need to download a separate piece of software to help you overcome this issue.
One such application is called LonelyScreen. This application will enable you to cast your screen to an external screen or monitor easily. It's a lightweight tool designed to help you cast your screen with ease, and it's also easy to install.
It will allow you to cast your screen on a PC that Apple does not create.
Screen Casting for Apple Users
If you're an Apple user, you might know that AirPlay enables you to cast your phone's or device's screen to an external monitor. However, this mostly applies to Apple TV or other major types of television. However, this is not the most viable solution for desktop PCs or other screens.
You'll need to use a third-party application like the LonelyScreen app. It is a lightweight application.
To start using this service, you'll only need to install it on your desktop PC or the device you want to use for casting. After that, you must ensure that both devices are connected to the same network.
Small and Easy to Use
A good thing about this app is that it's discreet and lightweight. It will only take up about 1MB of size on your computer and is easy to use.
To get started, you must connect both devices to the same network and use AirPlay to connect to the computer.
Conclusion
LonelyScreen is a great app to use when you want to cast your iPhone's screen to an external screen, such as a desktop, for instance.