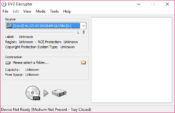 If you are searching for a tool to help you back up any movie or preserve the original DVD structure, you should consider DVD Decrypter. This tool will offer you the chance to generate ISO or IFO images.
The main feature of this tool is that it will be able to back up DVD movies to files while maintaining the video properties.
Creating backups to your DVD movie collection is a thing that you should know about. DVD Decrypter can be downloaded and used for free although it hasn`t been updated for a long time. It can still be used on any version of Windows.
DVD Decrypter is backed up by a log window showing each step of its activity, so you will always know what this tool is doing.
It will be possible to copy the original DVD structure with this tool and also to generate IFO or ISO images with ease.
You won`t encounter any difficulties using this tool since the process can be carried out with the standard configuration that this one offers you. If you are looking for additional control, exploring the menu bar and switching the file to IFO or ISO mode will be possible. You can do this instead of preserving the exact structure of the DVD movies.
DVD Decrypter will allow you to configure IFO, ISO and other settings easily. Regarding ISO images, setting the volume label to anything you would like will be possible.
The software will also have some additional features that can be used to erase and rewrite discs and synchronize the cache. Creating DVD MDS files is also a thing that can be done with this tool.
It will manage to copy any DVD images without any problem, and it will have a minimal impact on your computer performance which means that you can do other things while this tool is working.