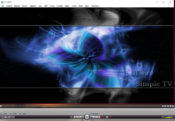 SimpleTV is an IPTV player that helps you play TV channels worldwide, create playlists, share them, play multimedia files, and easily record streams.
If you want to watch TV programs and channels on your computer, you'll need specialized software to help you do that. It's been established for quite some time, and it has been replacing the normal way we see TV programs, which is on television.
But with an app like SimpleTV, you'll be able to watch various TV programs and channels from all over the world, create playlists that you can then share with other people, stream channels to your computer, and play a variety of multimedia apps easily.
SimpleTV is a simple app to use, and it benefits both mobile and computer users.
Easy to Use and Portable
The best thing about this player is that you can use it anywhere you might be. The product is highly portable, so there's no need even to install it.
You can also take the files with you anywhere, put them on your USB drive, and start watching TV wherever you might be.
That makes it easy for you to take it anywhere with you.
Watch TV and Customize TV Channels
When you start to use this software, you'll soon get used to the interface. It's quite simple, although it might take some time for you to get used to it. You can easily browse TV channels on your app, organize them, and even search for the ones you want to access.
You can also customize how each TV channel looks on your computer and where you have it. You can easily replace icons with the ones you have on your computer.
And you can also crop video streams, create playlists, and play multimedia files you might have on your PC.
Conclusion
SimpleTV is an app that lets you play TV channels wherever you might be, record streams, organize channels and play multimedia files.