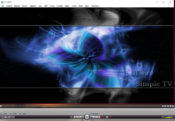 You can watch TV channels with SimpleTV on your PC. Opening and creating playlists is going to be easy, and you can add different channels. It also features an equalizer and cropping tool if you need them.
It has a very flexible and customizable interface, and it offers PIP and Multi PiP. It also gives you the possibility to record your favorite programs, and the schedule is downloadable.
Another thing that this SimpleTV offers is the versatile ordering channels option. Searching for a multicast channel and working with UDPPROXY are other features included in this tool. If you want, you can run this one in tray mode, and you can even play video files simultaneously with the flow. It offers full support for WinLirc.
You can choose for SimpleTV because it has full WinLirc support. It is a simple to use tool, and all of the features it offers are easy to understand. Thanks to the friendly interface, this tool can turn out to be a good choice for any user.