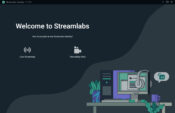 It can be easier said than done if you want to create streams. After all, there can be a lot that goes into getting a stream off the ground. It would help if you recorded, and then you have to worry about all the other things that come with it.
Luckily, there seems to be an app that solves these common problems. That is Streamlabs Desktop, a comprehensive tool worth taking a look at. It includes things like getting it uploaded, of course.
Editor
The editor that they include lets you preview your stream. You can even get streaming in only a few minutes.
However, you'll want to test the widgets to ensure it's working the way you want.
Overlays
Overlays allow you to see things on the screen at the same time. That way, you never have to worry about missing crucial information.
Dashboard
Using the dashboard, you can customize your experience. Decide if you will have something to get your video in full screen, minimized mode, or on a multi-tab experience.
Overall
Our overall impression is that this is a great comprehensive piece of software. You can still play around with it if you need to do it for fun.
If you need professional streaming, then this will help you.
Streamlabs Desktop seems to be the next generation of apps like this that empower users to get more out of their experience. For this reason, adding this to your PC suite of tools you use daily is a real plus.