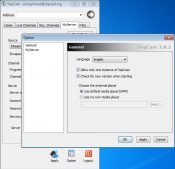 SopCast runs on cutting-edge peer to peer technology, delivering high-quality video content for free. With this software, you will view live p2p channels on the computer, receive p2p broadcasting, and enjoy the free embedded content.
While the delay is not noticeable at all, the buffering is fast enough to please the users, but at the same time, performance is bandwidth dependent. However, no high-end hardware requirements are needed as the buffering is done by the memory and not by the hard disk.
Multiple channels broadcasting from the same server and two ways authentication features further add to the tool's functionality.
SopCast can be easily used to watch TV channels or listen to radio stations and broadcast your very own projects. The user can easily choose the channels he will watch, regardless of his physical location.
Even the network the user is connected to won't matter if he decides to use a computer to watch TV channels. SopCast can quickly turn out to be an app that every user will enjoy using because it was made for this purpose, viewing television shows or listening to radio channels.
Thanks to this app, it will be possible for the user to broadcast his content over the Internet. When you install this tool, you should notice the programs that it will come bundled with other software. It will have some additional tools that you probably don't want to get, so make sure you will skip these parts in the installation process.
The clean-cut design is pretty minimal, and it will consist of a few buttons and some tabs that will enable you to glide through the options found in this tool smoothly.
SopCast will offer the user the chance to easily sort channels, pause a stream, or even start recording it. If you want to open a specific stream, you should first check your Internet connection to see if everything is working well. You will have a list of available channels for you to choose from, but you can sort them by class, region, and language.
It will even be possible to refresh the list so you will find the channels faster. Streaming your content online will be comfortable with this tool, and you will see that it will work with multiple files such as WMV or RM.
Users can choose a different port to make sure that they will be able to bypass firewalls.
SopCast features and benefits:
Firewall and NAT traversal

Memory buffering
Self-help management
End-to-End security
Minimal delay in the P2P streaming market
Fast buffering. 10-30 seconds
Firewall and NAT traversal technology to pass 90% P2P barriers

Build your own channels and broadcast it over the Internet
Streaming real time streams. Support for many streaming transport protocol. mms, http, etc.

Streaming media files. Many file types: asf, wmv, rm, rmvb, mp3, etc.
Support for loop file playing
Extremely low memory footprint and CPU load
Standard channel URL: click on any sop:// URL to play
Low memory and CPU load

Play with external player