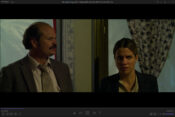 KMPlayer is an excellent audio and video player that will fulfill the highest user expectations. If you would like to watch your favorite movie or listen to the latest song, you do not need any external codecs, as other players lack.
This player has a built-in codec that lets you play a plethora of video and audio formats. From MPEG1/2 to 4K and from MP3 to AC3, you can be sure that this exceptional multimedia player covers everything.
You can also capture video and audio on your computer and save them in any format you want for later or for your friends. It is also available in 24 languages and includes menus for DVDs, audio and video, subtitles support, brightness and contrast control, and, of course, an excellent user interface.
KMPlayer features and benefits:
Already equipped with integrated Codec + replay environment
Strong, stopped image capture function
Video capture function
Supports a variety different kinds of media equipment
Supports Winamp, RealMedia, QuickTime, multiple audio streams, many kinds of output devices
A variety of subtitle functions
Supports low and high specifications
Image resizing function
Supports skin function and Winamp (Visualization) plug-in
 A variety of input, output color face function ASF/ASX, RTSP, etc. real-time broadcast viewing function
Frequency analysis & wavy pattern output function when playing music
Supports DVD