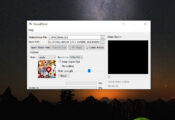 NeuralStyler is a nifty application that helps you turn your images, videos, photos, and GIFs into works of art by applying the various style effects used by some of the biggest artists in history.
Editing your images and videos is very pleasant with the right tools. And if you love art and appreciate artistic things, you almost certainly want to use various filters and editing tools to help you apply some of the creative touches to your images. It can give them a personalized look and also a more artistic one.
And with NeuralStyler, you'll be able to do exactly that. This application allows you to use some editing tools and effects used by some of the world's most famous artists and works of art.
It's an intuitive app allowing you to output your files in different formats, including MP4, Gif, and JPG. However, it could be even more user-friendly. Read on to find out more.
Supports Various File Formats
Before we start discussing the editing tools inside this application, let's look at some of its more technical aspects. Firstly, we must mention that you can use various file formats with this application.
It means you'll be able to import and export various file formats, no matter what kind of multimedia you're using and editing.
You may edit videos, images, and GIFs. So for videos, you can input and output videos in the MP4 format. For pictures, you'll be able to use the JPG format, while the GIF format is the standard format for GIFs.
When processing larger files, especially videos, you should know that the process might take quite some time to complete.
Apply the Art Styles of van Gogh, Kandinsky, Seurat, and More
The best part of this application is the editing effects you can add to your multimedia files. You can import various files on your computer, such as videos, images, and GIFs, and add the effects you'll find in this tool.
Some of the most popular artistic effects include the effects of Van Gogh, Seurat, and Kandinsky.
These editing tools are very nice. They help you add an artistic touch to your multimedia files, allowing you to make changes quickly. However, this tool could be enhanced with some additional features.
Namely, it doesn't allow you to change resolutions easily. You also can't change the output dimensions, and the encoding settings cannot be changed.
Conclusion
If you want to enhance your videos, images, and GIFs with works of art and their effects, then NeuralStyler can be a great application.
You can add some nice artistic touches to your multimedia files, but they could also be improved with additional features, such as resolution editing and dimension changes.