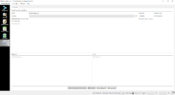 MKVToolnix is an advanced application with all the most comprehensive tools that will help you open Matroska video files (.mkv), edit them, manage them, and configure them using the tools inside.
If you're looking for a complete tool to help you focus on Matroska files (.mkv), then MKVToolnix is the option.
It contains all the most important tools for managing these files, making edits to them, and performing additional configurations with the help of the many useful tools you'll find inside.
For Advanced Users
Before you run and install MKVToolnix, you should know that this application is primarily meant for more advanced users of similar applications, especially video editing tools.
But it's also one of the best, if not the best, tools for editing and managing Matroska files, particularly providing you with all the tools you'll need.
The basic tools of this application include the ability to open, view, inspect, analyze, and manage your Matroska files, but there are many more additional tools that you can use.
For starters, the separate command line comes with this application, which you can use to perform advanced tasks like merging streams, for instance.
Create Chapters, Edit Them, and More
Of course, this application has all the necessary tools to help you create and edit mkv video files.
For example, a tool will enable you to create and edit chapters of your videos, define properties, edit start and end times, create and edit segments, edit chapter names, segment edition UID, language, country, and more.
You might want to consider the additional tools inside the interface, such as the support for batch jobs. It will be easy for you to manage files in batches and save time.
Conclusion
MKVToolnix is one of the most comprehensive video editing tools for Matroska files. It comes with advanced and basic tools for video editing, creating chapters, and much more.