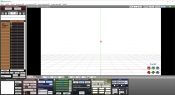 One of the most well-known figures of MikuMikuDance is Hatsune Miku, who was one of the first models in the application. However, today, there are thousands of additional models in the app that you can use for your animations.
You can create stunning 3D animations that you can output as videos and make them available for free download.
Powerful Framework
With MMD, you're getting a powerful framework and interface. There are a lot of powerful tools for creating unforgettable and viral animations.
But the most important thing is that it allows you to use your full imagination and put it to good use here. It will enable you to create amazing animations and videos that others can download.
Free to Use
MikuMikuDance is entirely free to use. However, some custom models require a fee, but only the premium models created by some of the world's best creators.
But once you see the quality of these models, the prices look affordable for the quality you're getting.
Vocaloid System
The Vocaloid system has gained much popularity in the animation creation community. It's one of the most popular features of the MikuMikuDance platform, where you can add spoken sequences to the animations through the voice library called voicebank.
There are hundreds of smaller samples of famous singer's voices in this library, and you can use it for animations.
From that library, you can select the smaller sequences and compose them in such a way that they create a meaningful entity. And it's this freedom of choice that makes this application so hugely popular.
Conclusion
MikuMikuDance (MMD) is one of the most popular animation creation platforms that allows you to express your creativity and use a huge library of voices and models completely for free (some are not free, though).
Create stunning animations and output them as video files so you can upload them to YouTube or use them for personal or commercial purposes.